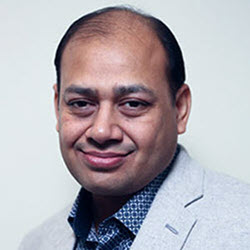 Suresh G
Co-founder & CTO
Suresh G is an Enterprising Technology Executive having more than 25 years of experience in Software Solutions and IT Services spanning Technology, Development and Management domains at various organization levels. He is extremely Passionate about solving real-world problems using cutting-edge and trending technologies. He has demonstrated success in leading multi-million-dollar and complex IT projects, including directing project lifecycle and on and off-shore team/client interaction and also administered multiple new technology implementation projects resulting in streamlined IT operations.
Suresh G has consistently grown across the hierarchy, successfully delivered at executive to top-level positions through high-stake decisions using experience-backed judgment, work-ethic and irreproachable integrity. His specializations include Microsoft Technologies Stack, Open-Source, Enterprise Architecture, User Experience Design and Emerging Technologies & Trends.
He is B Tech graduate and holds multiple Masters Degrees in Technology and recently completed his Post Graduate Degree in Machine Learning (ML) and Artificial Intelligence (AI). In addition to his academic degrees, he is having 7 Microsoft Certifications on different Microsoft tools and technologies and Microsoft Certified Azure Solutions Architect Expert as well.